'Frames' the latest book by Dr. Giulia Remorino has been published!
"Frames" is born from the literary project of a psychotherapist who has always considered art, literature, as a mirror of the human soul. Without word and sign, where to leave messages and the most secret emotions, there would not  be a chance to see into one another, to understand one another thus helping us to find a meaning  in our chaotic lives. Giulia Remorino Ibry's analytical apporach encourages relationship between the inner image and status of the patient's mood. Studying the connection between the scenario of everyday's existence and the reflection that this takes on in the mind of the main characters, Dr. Remorino decided to create a short story, the story of human existence, relationships – suffering – joy – pain – dreams  through a very young character that is processing images – emotions. Not surprisingly, the prose, which is essential, is descriptive and evocative, and between the pages we can find images, graphic symbols in colour and black and white, according to the feelings  brought in by the story.  The narrative – on the edge of feeling – shows us how our deeper frame of mind is able to load intense and evocative power from the rich inner world of every human being.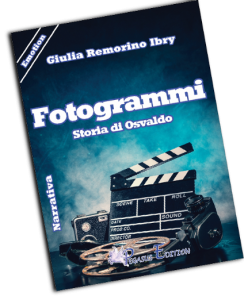 Frames is distruìibuted by Libro Co.italia and can be purchased in any Mondadori store on request.
The income will go towards the Association 'Human in Progress', President and founder being Dr. Remorino.
A link to the Association will soon be available.